I'm frequently asked about the supplies I use for drafting and painting, especially during my classes. 
Every artist has their own style and preferences, so here is a comprehensive list of all the supplies I use and love, or have tried and tested.
I will update this page regularly as I discover new products and tools.
1. Some of the following links are affiliate links. That means I earn a small commission, at no extra cost to you, if you decide to purchase any of them.
2.
Using my referral link will get you a 10% off coupon at Cult Pens
. 
(I don't make any commissions from your purchases, but will also receive a similar 10% coupon if you order anything) 
Professional-grade 'Masterbow' drawing compass set
I suggest replacing the built-in lead with a
2H or 4H grade
for sharper lines, which means more accuracy. And
sandpaper
to sharpen the lead regularly is a MUST.
Recommended: Investing in a vintage, stainless steel drafting compass set. Instagram shops like @pergelistan and @antikapergel have options, and scout eBay for good deals on Rotring, HAFF, Kern, Richter, Staedtler sets.
Clear acrylic ruler with parallel guidelines
30cm and 15cm
Ultrasmooth Bristol Paper, 200gsm+
Other brands: Strathmore, Daler Rowney
Mitsubishi KH-20 pencil sharpener
If you use graphite or colour pencils to draft, this is one of the best sharpeners I have ever tried
-
D r a f t i n g   P E N C I L S
To qualify as a drafting pencil, a mechanical pencil must have a fixed 4mm lead pipe for easy use with a straight edge. And, ideally, an all-metal clutch mechanism. The lead holding sleeve should be sturdy – absolutely no wobbliness. Well-balanced metal body and knurled grip is a bonus.
These are some of the pencils I are in my regular arsenal
 tried and loved:
I usually don't use plastic pencils but if you don't have a problem with that, you can't go wrong with the sturdy Pentel Sharp P200/P20X series that has been around since the 1970s.
Leads:
Pencils with 0.5 / 0.7 / 0.9 options only:
* not drafting pencils per se, but with pointed tips and good enough for technical drawing
D r a f t i n g    P E N S
Often I will draft the entire pattern using a pen from start to finish. For these geometry studies, my personal preference is using needle-point gel pens like 
Pilot Japan's legendary Hi Tec-C
. I prefer these steel nibs to fibre and felt tips, for crisper lines and less feathering. 
There are a few different models based on the Pilot Hi Tec-C nib style, and refills are available for most of them.
• All my experiences with these pens are based on smooth papers like Bristol, Marker or Kraft. Cartridge or other types of papers might yield different results.
• Drying time depends on the line thicknesses for each pen and the paper you use. The 0.25 and 0.3 pens dry almost instantly, with little risk for smudging. The thicker line widths will naturally take longer to dry, so one has to be careful when drawing with 0.5 onwards to avoid spreading ink with your ruler.
• Some pens may 'bead', i.e. leave a small ink deposit at the end of a line when lifted from the paper. 
• Always store gel pens horizontally.
• Gel pens are not waterproof or archival, unless specified.
1 –
Pilot G-Tec C / Hi Tec-C
The standard model, easily available and refillable. Available in 0.25 / 0.3 / 0.4 / 0.5 mm.
• The 0.4 dries almost immediately, no skipping, negligible beading at the end of the line: qualities of a perfect drafting pen.
Pilot Hi Tec-C Maica
Same pens as above, but with more attractive, ergonomic housing. Discontinued as of 2020 but still available with some eBay sellers. 
Cultpens
 has three colours remaining.
Retractable pens are convenient (no caps to lose), and the rubber grip makes them comfortable to hold, but this set is also no longer easily available. The newer model
Synergy Point
seems like exactly the same design, but in 0.5 
• The lines dry quickly enough, but skip a little when lines are drawn with speed. Nib needs cleaning now and then. Pastel and Metallic sets are both excellent.
Amazon
 |
eBay
 |
Jetpens
 have some sets of Juice Up in all the
available colours
.
3 –
MUJI Hexagonal 0.25 Ballpoint
If you have access to a MUJI store, and you find
these pens
in stock, buy the lot because they are excellent. 
•
The 0.25 is just ever-so-slightly scratchy, but otherwise
 similar qualities as the G-Tec C4, that is, minor beading, fast drying.
4 –
Pilot V5 Hi-Tecpoint/Precise Extra Fine
A classic from my school days, the fine nib is great for drafting but they are not refillable. 
• These pens take slightly longer to dry due to the liquid ink, which also results in some beading and darkening at the end of the line. But otherwise they have a great flow and line quality.
Has a V shaped nib, not needlepoint, some models have water-resistant ink.
Relatively slow drying ink, cone-shaped nibs, but waterproof and archival (at least for blue, black and red inks) 
* I don't use these pens often because the V/cone shaped nibs have a tendency to get messy and spread ink all over. BUT – if these are more accessible to you as opposed to the finer nibs, then they are decent pens – just make sure to clean the tips frequently. 
7 –
Papermate Inkjoy 0.7mm
When fine lines are too hard to see, then these 0.7mm pens are excellent for highlighting, providing contrast and outlining.
• The 0.7 has a slightly longer drying time than finer pens mentioned above, but excellent quality of line, smoothness and range of colours.
Waterproof & Archival for outlining and final work
For geometry that I intend to paint, I will usually draft it using 0.3 pencil and then a pigment marker or Isograph to ink the pattern.
1 –
• Very long lasting pens; this was my first set that kept going for years before drying out. 
2 –
• Rich dark ink, as expected from Rotring
3 –
• Excellent shaped nib for use with straight edge
The popular choice for technical drawing are 
Sakura Pigma Micron
 fineliners with plastic nibs. The pens are archival and waterproof, but surprisingly I haven't ever used them myself. ​​​​​​​
For projects and commissions, I use Rotring Isograph pens. 
Rotring ink is the deepest, darkest and blackest of inks.
 These archetypal technical drawing pens are high-maintenance, but worth the time and effort as they are reliable and perform brilliantly. Regular cleaning is necessary, and compared to other technical pens I've used, Isographs are much easier to clean as the nib comes apart completely.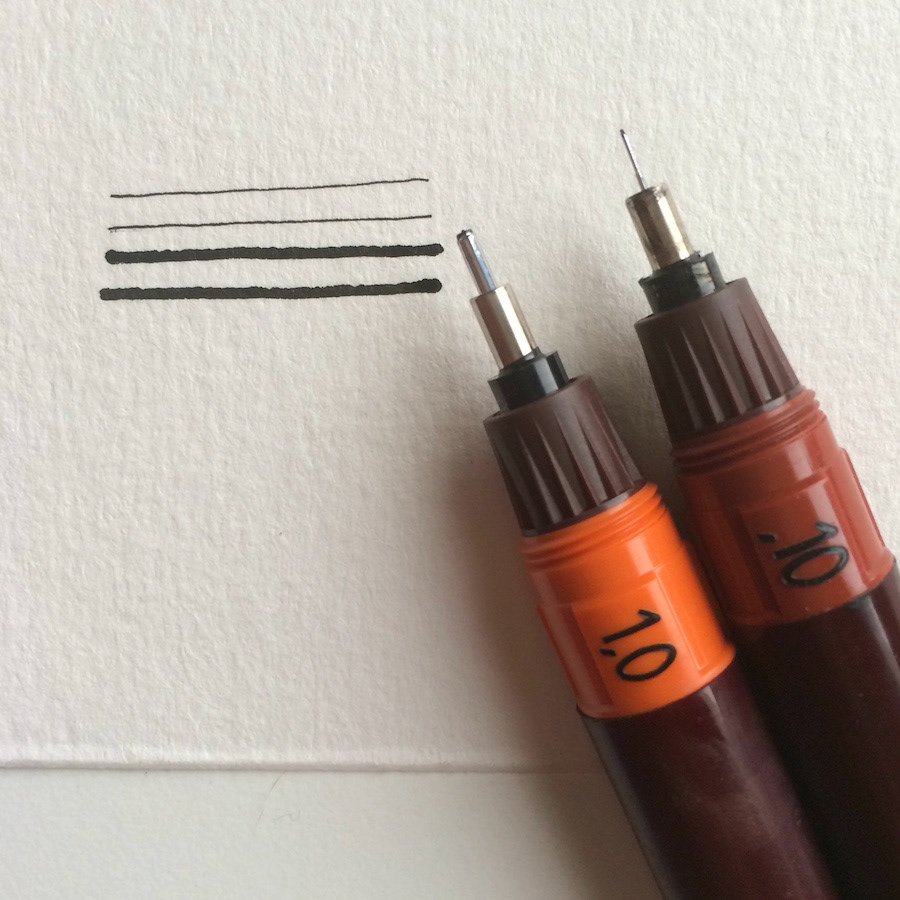 A stronger, archival alternative to tracing paper
To clean excess graphite marks and smears 
Clean the drawing without smudging
To use as a drafting surface that anchors the compass point
-
D r o p b o w    C o m p a s s

An indispensable tool for serious geometers. Useful for making small circles, it's very hard to find these days as almost every manufacturer has stopped producing it, and scoring a vintage find on eBay is the best available option. 
– This 
Alvin
 compass was the only one easily available until recently, and it seems to have been discontinued as well.
Blick Art Materials
still has limited supply. It's not the best quality but good for the price.
– Search eBay for vintage dropbow compasses, as well as '
fallnullenzirkel
' which is the German translation. Tip for hunting down compasses: Ebay.de often has more stock than Ebay.com. 
– Check Instagram collectors and shops 
such as @pergelistan and @antikapergel
-
-
-
-
​​​​​​​