Commissioned by Qatar Museums for their gift shop, 'Batta' is a unique playing card set, custom designed with costumes and cultural aspects of Qatar. 

-
Concept, Art Direction, Research:

Hessa Al-Ali


Design, Illustration, Research:

Aziza Iqbal


 -
For this special card series, Hessa and I collaborated to reformat the traditional playing card suite – but with a distinctly Qatari flavour.
Each element in the design was researched painstakingly, many drafts created and finetuned to showcase details of Qatari dress and society. This includes the unique 'Al Muqanna3'  (The Masked One) character card instead of the Joker, as Ahmed Mohammad Al Jaber, a local icon in Qatar due to his hobby for eccentrically decorated cars and bikes.
-

The reverse design of the cards was inspired by the carved gypsum patterns that adorn old Qatari houses.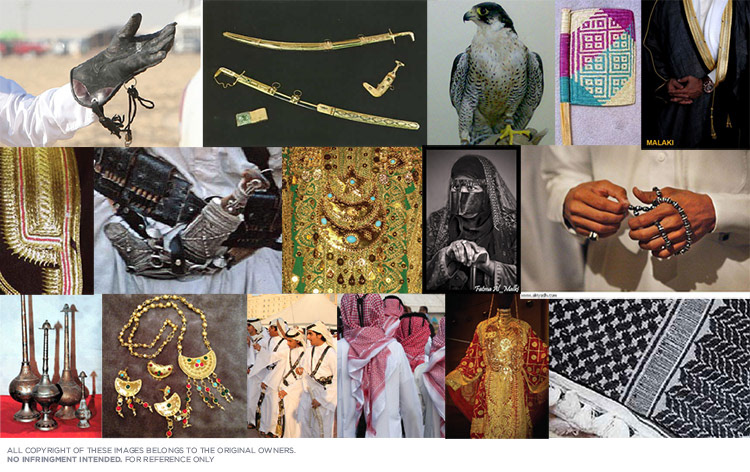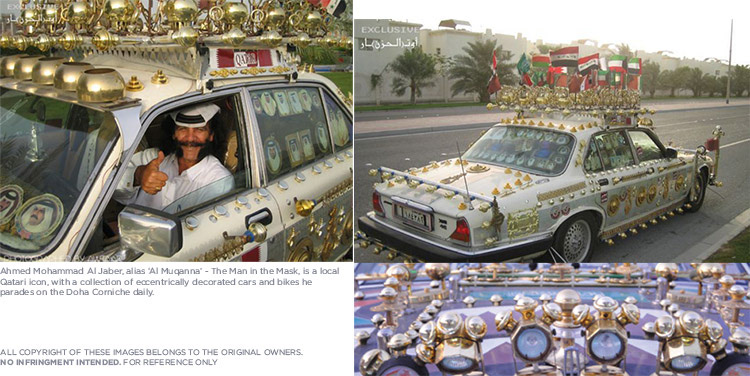 Some of the traditional elements we showcase in the suite:
Bedwin Burqa
: Black garment which Qatari women wear to cover their face
Henna
: Patterns made with deep red or black natural dye used to adorn hands
Mahafa
: Flag shaped hand fan made of woven palm tree leaves
Batoola
: Golden mask covering the lower face usually worn by older women
Kursy Jabir, Mahafa, Mertehesh
: Types of gold necklaces worn by women
Fenyal
: Arabic coffee cup
Marash
: Metal bottle usually containing perfume or rose water, with holes on top to sprinkle the perfume
Shemagh
: Headscarf for men designed with woven patterns
Mehzam
: Leather holster with bullets, usually worn on occasions when sword dancing takes place
Mesbah
: The Qatari name for prayer beads, used by men often as a hand accessory
Bendeg
: Qatari name for a rifle used on ceremonial occassions
Das
: Glove for holding falcons
Thawb
: Long garment worn by men
Bisht
: Traditional cloak worn over the Thawb, usually for ceremonies
Khanjar
: Small dagger

In addition to the cards for the gift shop, 'Batta' was showcased at the W Doha, for the International New York Times 'Art For Tomorrow' Conference in 2015, featuring Qatari design specialist Hessa Al-Ali.

Reproduced extra large as A2 sized cards, acrylic sheets were laser cut individually, and then intricately assembled and mounted.
ALL RIGHTS RESERVED © QATAR MUSEUMS